The  Downtown Statesboro Development Authority  will be hosting a WinterFest block party on West Main St. and West Vine St. Friday, February 3 from 5:30 p.m. to 9 p.m.
It's time to celebrate all the wonderful things winter has to offer. Downtown Statesboro is your destination for all things fun. This WinterFest block party will provide an evening for you to enjoy with family, friends, loved ones, and even your pets.
You can try your hand at ax throwing or stick to shopping for jewelry, soaps, candles, and other handmade goods. Food will be available from a variety of vendors throughout the night. A s'mores station will also be open to provide a sweet treat and fun activity for all. Vandy's BBQ will feature music from Dan Larkin and Friends.
"This year, we are expanding our event to include West Vine St., making it a big block party. This expansion will allow even more room for our vendors and fun activities," said Allen Muldrew, Executive Director for the Downtown Statesboro Development Authority
Road closings for the event are as follows: West Main St. to College St. and West Vine St. to Walnut St. These road closures will take place from 3 p.m. to 9:30 p.m. on the day of the event.
Despite the road closures, people will still be able to shop at businesses like Vino 1910, Material Girl, Charlie's Funky Junk Shop, Miracles Children's Boutique, and as they will remain open later into the evening.
First Fridays are possible by the support of the following sponsors: Vyve Broadband, Morris Bank, McLendon Enterprises, Party Impressions, East Georgia Center for Oral and Facial Surgery, Georgia Power, Party Harbor, Coca Cola, Statesboro Properties, Shoemaker Equipment Supplier, Southern Chiropractic & Wellness Center, American Roofing, Wells Fargo Advisors, Colony Bank, Statesboro Oral Surgery, CORE Credit Union, Tormenta FC, Aspen Aerogels and McKeithen's True Value.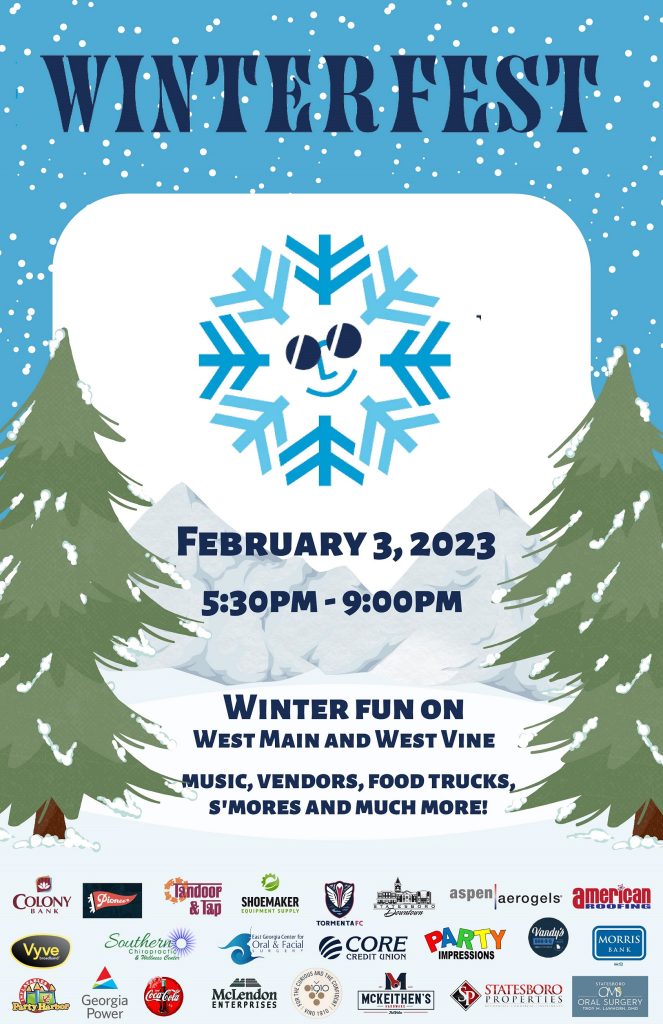 For more information, please contact the Downtown Statesboro Development Authority by calling us at (912) 764-7227 or emailing us at mainstreet@statesborodowntown.com.