Celebrate Independence Day at Mill Creek Regional Park with live music, games, inflatables, great food, and of course, a 15-minute fireworks show! The celebration will take place on July 1st from 5pm-10pm.
Here is a breakdown of the events:
5pm Celebration Begins
5pm Greased Pole Opens – Field 5
5-8:30pm Kid's Activity Field – Field 5
5:30pm Frog Jump Contest – Field 3
5:30-7pm Live Music: Fantasy Band – Field 1
7:45-9:15pm Live Music: The May Belles – Field 1
9:15pm National Anthem – The May Belles – Field 1
Fireworks will begin after The National Anthem, and this will complete the celebration.
Full Concessions will be available at the hub (building between Fields 1-5) We will also have food vendors throughout the event.
Child safety armbands are available at the information tent or the tent on the games field. These armbands are placed on the child with parental contact information in the event you are separated.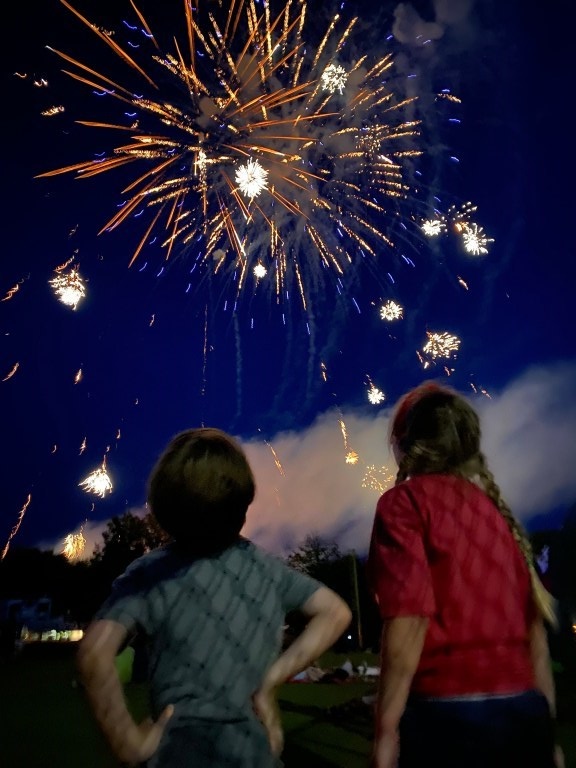 More information for the evening events: 
Frog Jumping Contest Rules
BYOF (Bring Your Own Frog)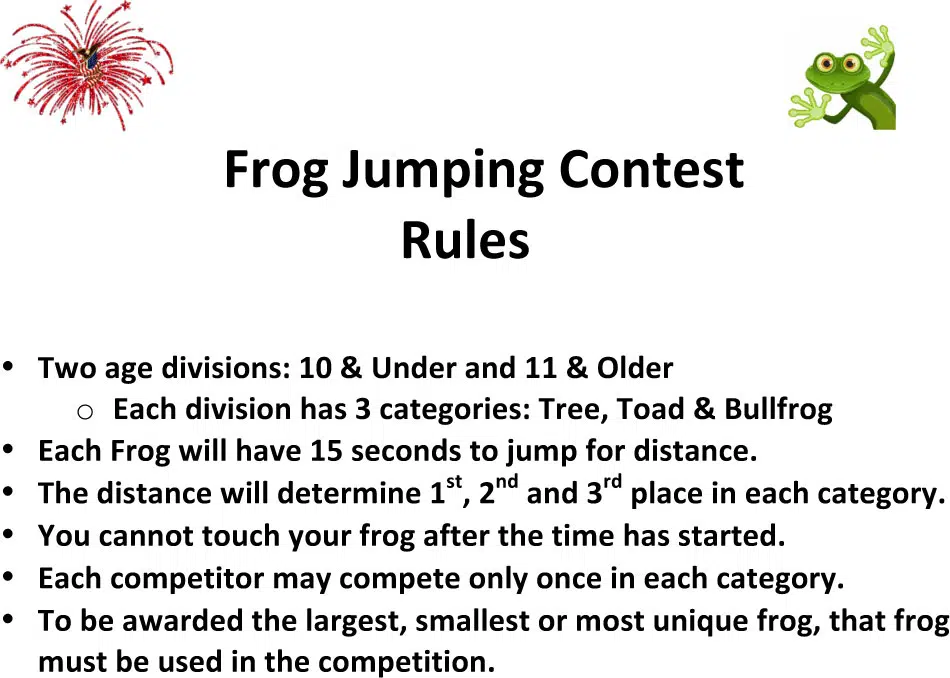 Amusement Games & Inflatables
Games will be open from 5-8:30 pm ONLY.
Inflatable games are available free of charge! There will be wet and dry ones so come prepared to get wet! It is July in South Georgia so the kids will want to cool off. Please remember no shoes are allowed on the games.
Tattoo Art and  Games– Available free of charge to anyone interested
Firetruck– Available for kids to look and explore from 5-8 pm
Greased Pole Climb
Short pole for participants 10 years of age and younger.
Tall pole for participants 14 years old and younger.
Each participant gets (1) 2 minute try to climb the greased pole
Participants are not allowed to have help from others. It must be an individual effort.
After 2 minutes, participants are allowed to have another try, but they must get back in line.
The ONE person who gets to the top of the taller pole first will win $20 and the second gets a free t-shirt
The ONE person who gets to the top of the smaller pole first will win $20.

The second gets a free t-shirt

After prize money is won, participants can continue to climb the greased pole.