Ogeechee Riverkeeper (ORK) commissioned local artist Juliana Smith to create a custom artwork entitled "Blackwater Barons" featuring the plants and wildlife in the Ogeechee River watershed. The work includes the Ogeechee lime tree, spider lilies, white ibis, bald-faced hornet, cypress knees, American alligator, robust redhorse, and redbreast sunfish. 
Smith designed the piece, carved the linocut by hand, and pulled a limited number of prints. 
"For me, working on a piece representing an entire river was a welcome challenge," said Smith. "As a naturalist, I recognize that an ecosystem is the sum of its parts and enjoy drawing connections between and amongst them. So, to develop this piece, I relied heavily on the guidance of the riverkeeper to make sure I knew its iconic inhabitants. Through them I was introduced to the namesake tupelo and robust redhorse – both of which play huge roles in the piece, just as they do in the river."
Each print is signed and numbered by the artist, and are only available by making a minimum donation of $500 to ORK. 
ORK will offer merchandise such as t-shirts, totes, and more in future.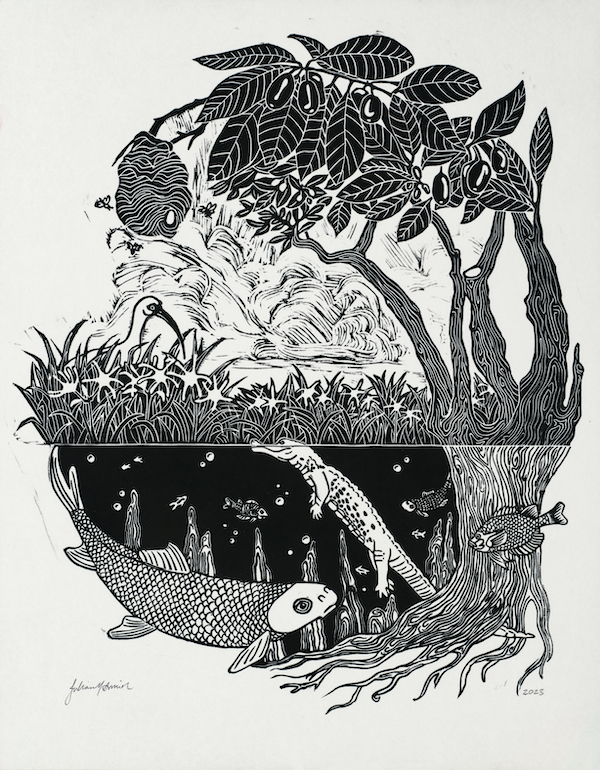 Donate to receive a print: https://www.ogeecheeriverkeeper.org/prints/
About the artist: Juliana Smith is a local artist dedicated to spreading knowledge about the organisms we share our home with and encouraging outdoor exploration. She is a naturalist for an environmental education non-profit in the South Carolina Lowcountry where she shares experiences and information about our native flora and fauna with others. Though she is particularly drawn to birds, bugs, and wildflowers, she finds fascination in all wild things and spends endless hours observing, studying, and illustrating them.
Juliana's Etsy shop: https://www.etsy.com/shop/knowyourearth
Juliana's Instagram: https://www.instagram.com/knowyourearth_

About Ogeechee Riverkeeper: Ogeechee Riverkeeper 501(c)(3) works to protect, preserve, and improve the water quality of the Ogeechee River basin, which includes all of the streams flowing out to Ossabaw Sound and St. Catherine's Sound. The Canoochee River is about 108 miles long and the Ogeechee River itself is approximately 245 miles long. The Ogeechee River system drains more than 5,500 square miles across 21 counties in Georgia. More at ogeecheeriverkeeper.org.