In a heartfelt tribute, the Statesboro Food Bank family is coming together to celebrate a remarkable figure, Mrs. Dorothy "Dot" Simmons, who has dedicated 22 years of her life to serving the organization and the community it supports.
Mrs. Dot's unwavering commitment over the past two decades has not only left an indelible mark on the Statesboro Food Bank but has also touched countless lives in ways that extend far beyond measure. Her service has been characterized by humility, grace, and a heart brimming with compassion.
Known affectionately as the "Mama" of the Food Bank, Mrs. Dot has been a source of wisdom, comfort, and inspiration to fellow staff, volunteers, and clients alike. Her enduring warmth and love have created lasting bonds, and her influence has been deeply felt by all who have had the privilege of knowing her.
As the Food Bank bids farewell to this extraordinary soul, there is a collective sense of loss for a person who has become an integral part of the charity's fabric. Her departure leaves a void that cannot easily be filled.
Despite her frailty, Mrs. Dot's faith has remained at the core of her being. She continued to prioritize attending church, even in her weakened state. It was at a Sunday service that the Food Bank had the privilege of presenting her with a token of their appreciation—a small gesture for the immense impact she has had on the Food Bank family.
Mrs. Dot's tears of gratitude and her praise for the blessings she has received serve as a poignant reminder of the profound power of kindness and the importance of giving back
to the community.
The Statesboro Food Bank invites everyone to join them in sending Mrs. Dot love, well wishes, and prayers as she embarks on this new chapter of her life.
In a final note of appreciation, the Statesboro Food Bank expresses its deepest gratitude to Mrs. Dorothy "Dot" Simmons for being a shining example of love, compassion, and
dedicated service. Her legacy will forever hold a special place in the hearts of all who have been touched by her presence. For media inquiries or further information, please contact:
Jasmine Haynes
PR and Marketing
Development_marketing
@statesborofoodbank.org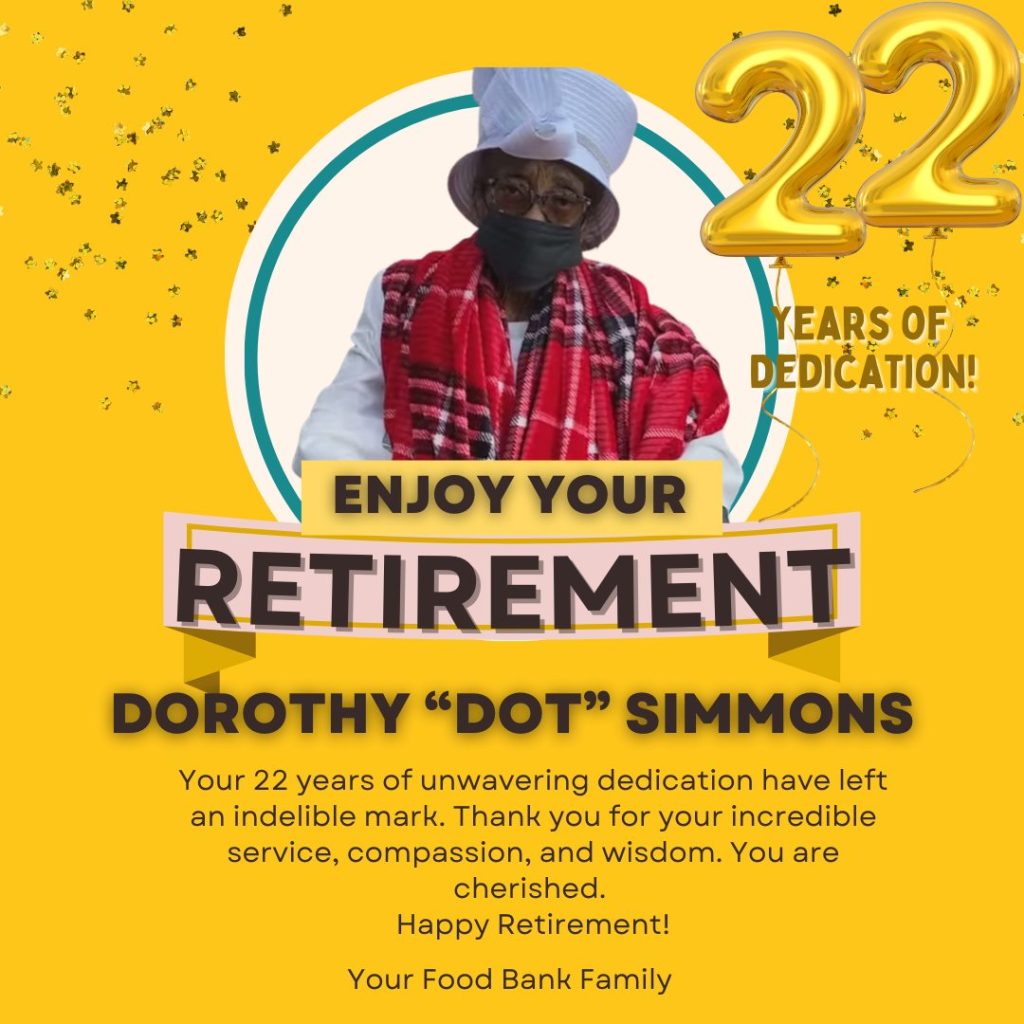 About Statesboro Food Bank
The Statesboro Food Bank is a non-profit organization dedicated to eliminating hunger and improving the health and well-being of our region through access to healthy and nutritious food, as well as community education. Our mission is to ensure that no one in the community goes without proper nourishment. With a strong commitment to serving the community, the Food Bank strives to make a positive impact on the lives of those in need. For more information about the Statesboro Food Bank and its services, please visit www.statesborofoodbank.org or our Facebook page dedicated to assuring our community is fed, by Statesboro Food Bank. A new Facebook page has been added, Statesboro Food Bank News, to ensure that we keep our public aware of new facility opportunities.