Downtown Statesboro Fun! Friday, September 15, Downtown Statesboro Development Authority will be hosting the Wells Fargo Advisors Taste of Downtown from 5:30 p.m. to 8:30 p.m. The event will take place downtown starting at the Bulloch County Courthouse and will feature local restaurants and businesses.
Tickets will be sold at the courthouse for ten dollars in cash. Once you get your ticket, you will be handed a map of all the locations you can check out. Each location will have something special waiting for you, just follow the map and find the treats.
The scavenger hunt will include 30 stops that are all within walking distance of the courthouse. Be sure to walk the entire map to ensure that you have been to all the destinations on it.
East Main Street will be closed from the stop light to Railroad Street, from 3 p.m. to 9 p.m. there will be vendors, activities and exhibitors. Georgia Southern BiG will have Fix It Fridays from 6 p.m. to 8 p.m. at the FabLab. This is a free service for anyone who needs repairs on miscellaneous items. Friday, September 15, Fix It Friday will be specializing in bike repairs.
"This is a very special Taste of Downtown this year as it is our 15th annual one! We are so thankful for our Wells Fargo Advisors for sponsoring this event. Be sure to come out and enjoy the great music and atmosphere provided," said Allen Muldrew, Executive Director of the Downtown Statesboro Development Authority.
Patrons will be able to walk into stores to shop and look around as well as sample a tasty treat from local restaurants that will be inside.
After shopping around, make sure you check out the live music that will be featured. Vandy's porch will be having Jon Atkas, Pladd Dot Music will feature up and coming musicians, Eagle Creek Brewery will have Lariat and The Ripleys will be performing on the mainstage at the courthouse.
The Downtown Statesboro Development Authority would also like to thank their 2023 sponsors for helping make this event happen: American Roofing, Colony Bank, CORE Credit, East Georgia Center for Oral & Facial Surgery, JC Lewis Ford, Georgia Power, Georgia Southern University, , McKeithens True Value Hardware, Mclendon Enterprises, Party Harbor, Party Impressions, Shoemaker Equipment Supply, Southern Chiropractic & Wellness Center, Statesboro Properties, Statesboro Oral Surgery, Statesboro Urgent Care, Tormenta FC, Hendley Properties, Wells Fargo and Vyve Broadband.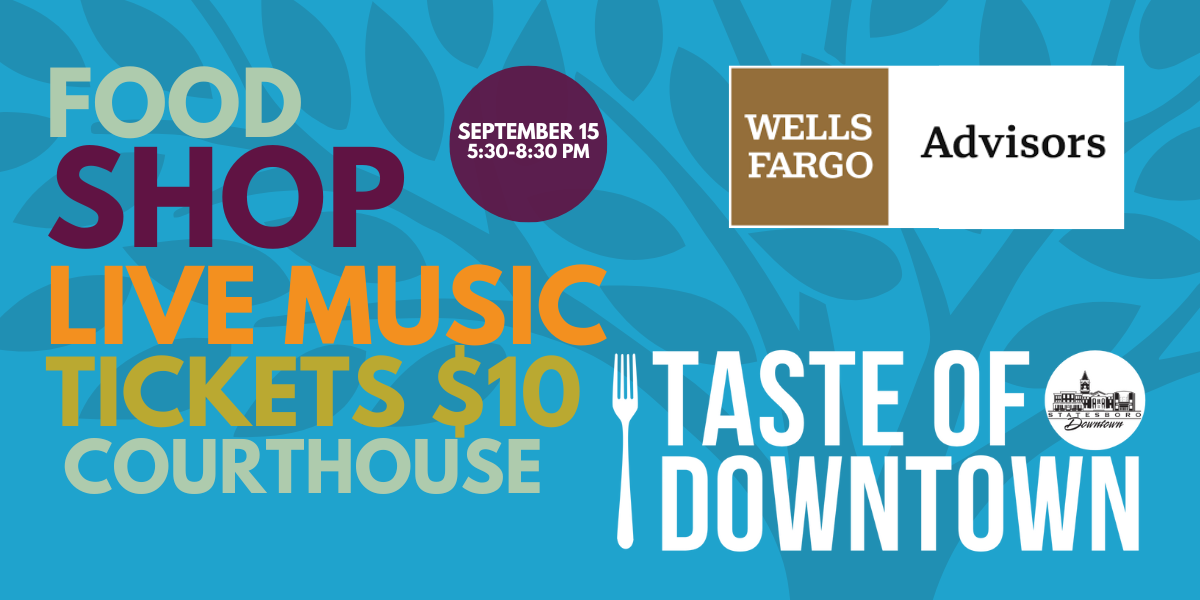 For more information, please contact the Downtown Statesboro Development Authority by calling 912-764-7227 or emailing mainstreet@statesborodowntown.com.